Submitted by

Jayna Rana

on 22 May 2015 - 5:40pm
Having earned more at the box office in its first week than its prequel made in its entire theatrical run, I had huge hopes for Pitch Perfect 2, which hit UK screens last Friday. And I was definitely not dis-aca-ppointed.
Jason Moore does not reprise his directorial role but it is instead, picked up by none other than Elizabeth Banks – yes, that's Gail of ICCA commentators John and Gail – while Kay Cannon and Mickey Rapkin write another winning script.
The story follows the Barden Bellas, who have won the ICCAs (International Championship of Collegiate A Cappella) another two times since they stole the title from all-male rival group, the Treblemakers. This time, they are aiming for higher glory as they compete in the World Championships.
It's laughs all round as we see our usual favourites getting into all kinds of situations involving bear traps, secret underground A cappella gatherings and of course, Fat Amy flashing to the president while on a wrecking ball. Yes, Mr Barack Obama himself was subjected to seeing Rebel Wilson's toner.
But it's also exciting and refreshing to see new 'sisters' in the group, including Hailee Steinfield as Emily, the daughter of a former Bella legend and amateur songwriter. Then there's my personal favourite, Florencia, a Guatemalan gymnast who lives every day like its her last because she will probably get deported after graduation and then die at sea as she tries to make her way back to the US. Probably.
Pitch Perfect 2 steps up its game by not being just about synchronised lady-dancing to a Mariah Carey chart-topper, but also love, friendship and making the transition into the real world (something which I could wholly relate to, minus all the singing).
Anna Kendrick retains the witty sarcasm and grunge charm that we loved so much at first as Beca, showing that she hasn't been completely swallowed by the A cappella machine (unlike one of her colleagues) as she chases her dream to be a music producer.
Which brings us to the crux of it all: the music. The tracks in Pitch Perfect, weren't the greatest songs in the world – in my opinion, some of them were the worst – but the way they were performed made them utterly entertaining and addictive (I think I've YouTubed the riff-off well over 100 times).
Things have definitely picked up for Pitch Perfect 2. 'Le Battle', which follows the same structure as the riff-off, features some golden oldies with a category named '90's hip hop jamz' while the World Championships sees groups from all over the world covering Journey's 'Any Way You Want It' in their native tongues. 'The Cup Song' makes a comeback with some extra vocals and harmonies and even Snoop Dogg makes an appearance to make his special Christmas edition album.
The Treblemakers are no longer the Bellas' biggest competition; in fact they couldn't be closer as Beca and Jesse's love blossoms and new relationships are formed. No, it's German A cappella group Das Sound Machine that are the ones to watch – and listen – out for. I couldn't help but giggle every time they sang 'zis iz how we do it' but even Montell Jordan would be impressed with the overall composition.
Even though I'm telling myself at the moment that Pitch Perfect was better – perhaps because the bar was set so high – I think that the sequel might just take its spot when it becomes available to buy and I inevitably have it playing on loop every spare couple of hours I can find.
Simply because, I think I appreciated this instalment more. It had that extra layer of reality that the first film left out, at least when it came to the bits about applying for internships and the sadness that comes with saying goodbye to good friends as we leave our place of study and brace the real world. There definitely wasn't anything realistic about 20-something year-olds being able to afford last-minute flights to Copenhagen or you know, the fact that none of them seemed to actually do any work towards their degrees.
In all, the film was completely predictable but bloody brilliant. I think I may have also been a bit soppy because we're nearing the end of the academic year and like the Bellas, I'm going to have to say goodbye to some pretty awesome people soon.
At the risk of this 'review' turning into a self-analysis, I think I'll stop there and just say, go and see this film. If not for the decent acting, pretty people and feel-good music, then at least to have a fun night out with your friends.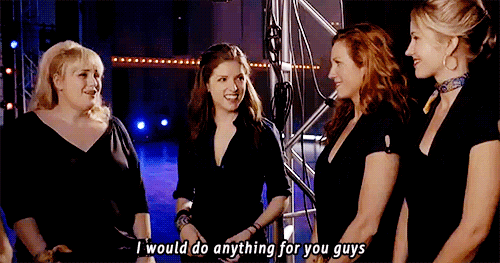 It's an aca-review. Sort of.